Daily Jang Urdu Newspaper Pakistan History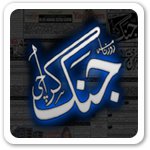 Jang was first published in 1939 by Mir Khalil-ur-Rehman. Daily Jang is being published from Lahore, Karachi, Rawalpindi, Quettta and Landon. It is the only sound Pakistan newspaper which is also published form outside the country; Landon. Jang has the largest circulation in Pakistan.
It is the first newspaper which used computerized Urud calligraphy in Pakistan. This has a large impact on Urdu journalism. Other newspapers influenced by its popularity, aslo began to use computer. At present, Nawa-i-Waqt, Pakistan, Mashriq and Musawat are also using computerized calligraphy.For the strict economy of space, Jang puts more and more headlines on the front page. Their text is carried to the inner pages. This style is being adopted by all newspapers of the country. Its photo coverage of local, national and international events is remarkable and praise worthy.
Considering is large criculation, it has shown tremendous growth and is financially strong and pays better wages to its large editorial staff. Jang is the first newspaper which introduced a weekly magazine on Fridays and now all national dailies publish weekly magazines of Fridays. It goes to the credit of jang that newspapers took their roots in the low class pepole. Jang is also the first to produce sparate coloured editins consisting of articles on youth, women, children and political affairs.
Comments
2 Responses to "Daily Jang Urdu Newspaper Pakistan History"
Speak Your Mind