Mir Hazar Khan Khoso – History of New Caretaker PM of Pakistan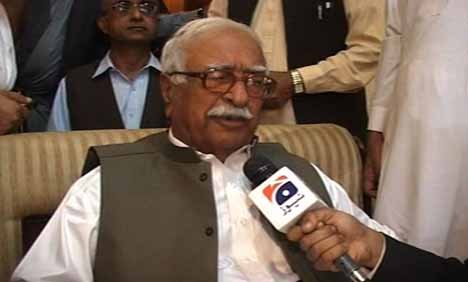 The New caretaker Prime Minister of Pakistan is Mir Hazar Khan Khoso. The ruling elite suggested his name for the next caretaker PM together with Dr. Ishrat ul Ibad. Where as the opposition suggested two other names for this post which were not accepted by the Election comission of Pakistan.
Mir Hazar Khan will be the 6th caretaker PM of the country after Ghulam Mustafa Jatoi (1990), Blakh Sher Mazari (1993), Moeenuddin Ahmad Qureshi (1993), Malik Meraj Khalid (1996) and Muhammad Mian Soomro (2007).
Born in district of Jaffarabad in Balochistan on 03-09-1929, Mir Sahab graduated from Sindh University. He served as a competent lawyer who was popular as an expert in several laws. He was appointed as a judge of Balochistan High Court on 20th of June,1977. Serving as the high court judge, Mir sahab was considered as a competent authority in the court. He was promoted as the Chief Justice of Balochistan High court on 13 December, 1989 and remained on this post till 29 September, 1991 and was retired on the same date.