Top Ten Best Places To Visit in India: Indian Tourist Attractions
India is one of the most attractive countries in the world. Travelling in India is booming with the economic prosperity by leaps and bounds. The outstanding natural beauty of Darjeeling and Goa, the magnificence of historic Taj Mahal and Lal Qila, the modernity of the city of Mumbai and Bangalore and the awesome vastness of the desert of Rajasthan, are some of worth seeing tourist attractions in India. Bharat is the home of variety of cultures, languages, religions and natural scenery. Here are the top ten tourist attractions or must see places in India.
Darjeeling is famous tourist place in India with pure natural beauty. It is also famous for its black tea industry which is considered as the best black tea in the world. This amazing hill station is located in the Northern part of India (Northern West Bengal). During British rule a military depot was established in Darjling and it also contains many Colonial styled old buildings. Mirik Lake, Mount Kunchenjunga (the world's third highest mountain), Himalayan Zoo and Japanese Peace Pagoda are some of the must see places in Darjeeling.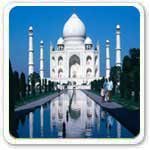 Taj Mahal is the not only the most famous tourist spot in India but it is also one of the Seven Wonders of the World . It attracts record 2 to 4 million visitors annually. This magnificent building/tomb was constructed in 1653 by Moghel Emperor Shah Jahan in the memory of his beloved wife Mumtaz Mahal. Its unique design is the combination of Persian, Indian and Islamic architecture. Ever since its construction, the building has been the source of an admiration transcending culture and geography, and so personal and emotional responses have consistently eclipsed scholastic appraisals of the monument. One of the interesting facts for the tourists or travelers here is that the color of this huge historical monument of Bharat keeps changing throughout the day.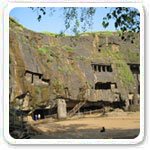 Khandala is beautiful hill station located in the state of Maharashtra in Western Ghats . It is located near the Indian financial capital Mumbai and famous for its unique scenic beauty. Khandala becomes more attractive in rainy session when valley is covered by lush green vegetation and attracts many tourists. Because of its proximity with Mumbai it is visited by most of people who visits Mumbai.
Goa is famous for its amazing beaches and colonial age buildings. It is the smallest state of India by area and located on the western coastline of India near state of Maharashtra . This historic tourist destination was controlled by Portuguese till 1961 and then India took control of it. It also attracts large number of tourists every year not only from India but also from the world. Nature has blessed Goa with graceful scenic beaches of Palolem, Anjuna, Vagator etc. Tourists can also enjoy rice and fish curry along with pickles and fried fish in lunch or dinner.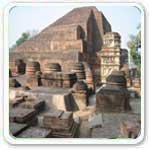 Nalanda is the ancient and historical city of India which is famous for its university named Nalanda University which is considered as the greatest ancient Budhist University of recorded history. This ancient city is located in the state of Bihar and it was considered as center of Buddhist learning. The Great Stupa, Nalanda Archaeological Museum and Nalanda Multimedia Museum are popular travel places to visit in Bharat.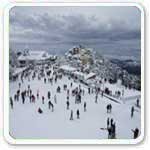 Shimla which is also known as "Queen of Hills" is a famous hill station located in Himalayas at an altitude of 2128 meters. During British raj it was the summer capital of country and today it is the capital city of HimchaLpardesh. The name Shimla is derived from the name of Hindu Goddess. The leisurely walk at the mall, a glance at the photo art gallery and a deep look into the Vicegeral lodge gives a deep sense of pleasure to the visitors therefore it is one of the best place for honeymoon and vacations.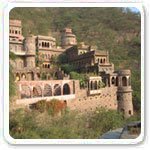 Neemrana fort is the ancient or historical city of India which is located in the state of  Rajhistan and famous for its fort. Neemrana fort was constructed and ruled by Chuhan family and after independence of India it was converted into heritage hotel. This six century old fort attracts huge number of tourists every year and the symmetry of this ancient place is surprising for the newly visiting tourists.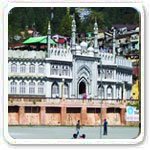 Nainital is located in Himalayas and famous for its natural beauty and beautiful natural lake. This hill station is situated at an altitude of 1938 meters above sea level and covered by snow peaks in most times of the year. Another famous place in Nainital is its ancient temple which was destroyed in 1880 by landslide but it was rebuilt again. The newly wed couples can enjoy the romantic nature during their vacations in Nainital.
Kahmir is not only a famous hill station but it is the largest city of India without Hindu majority. This beautiful city is famous for its lakes and houseboats. It is also known as "Haven On Earth" and situated in the disputed state of Jammu and Kashmir . Struggle for Independence by Muslims of Kashmir is going on in the state against the atrocities of Indian army which is deteriorating the natural beauty and peace of the city.
Konarak temple is situated in the state of Orissa. This mysterious temple is also known as Sun Temple or Black Pagoda. The most amazing thing about this temple is that it was constructed with sand stone. This ancient temple is not only the world heritage site but also considered as one of the Seven Wonders of India. It is also the must see place in India for travelers.
Comments
4 Responses to "Top Ten Best Places To Visit in India: Indian Tourist Attractions"
Speak Your Mind